Solids Control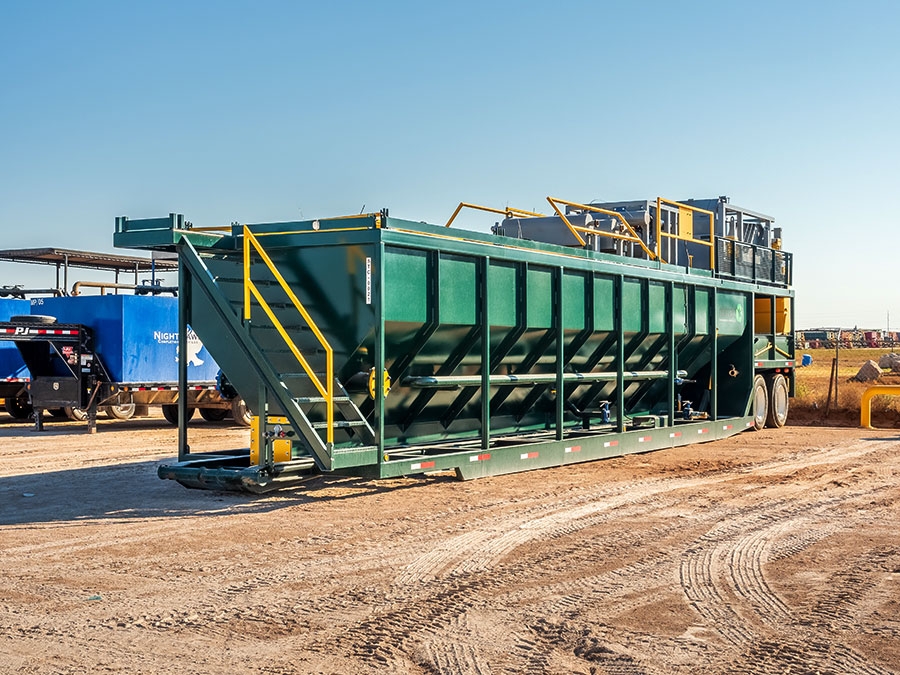 The Sandhawk is a self-cleaning, solids control system that allows the cleanest working fluid to be recycled. This system has proven to save operators a significant amount of money and time by eliminating cleaning and disposal fees that the traditional systems accrue. The Sandhawk does not require a SuperVac or cleaning crew therefore there are no delays.
Areas of Operation
West Texas
East Texas
South Texas
Oklahoma
New Mexico
The following is the flow process of the fluid as it is returned from the well and is recycled.
---
Well returns flow back into gas busters located at the center of the tank.
Built in baffles are in place below the gas busters and the settling process begins.
Once the solids reach the bottom of the tank, the contents are carried toward the rear of the unit towards the pump and shaker system by the auger that lays across the bottom of the tank. The "V" shape of the tank prevents any solids from getting left behind.
The auger feeds all solids to the "Desander Pump" and the contents are pumped over the top of the shaker at the rear of the tank.
Hydrocyclones are in place above the Shaker to start the separation process. Solids are dropped over the top of the shaker and excess fluid is pushed through a return line that leads right back to the gas busters at the center of the tank. Any solids that may have been returned to the tank will continue to go through the cycle until they are removed.
Once the solids are dropped over the top of the shaker, the contents are carried toward the rear of the tank at an incline and are held back by the "Dam" which allows the drying process to take place. When the weight of the solids overcomes the resistance of the "Dam", then the solids will be dumped from the high point of the shaker onto a chute and into a tank or pit of your choice.
---
The cleanest fluid remains at the very front of the tank where the return rate is measured, and a smaller pump is utilized to catch samples of the working fluid and to clean shaker screens. The Sandhawk is equipped with an 8" overflow system for equalizing into other working tanks and a 4" overflow system for oil skimming. These overflows are adjustable but are meant to be set at a high working level in order to use the cleanest fluid which is the furthest away from any solids. Closed Loop gas separators and flare systems are available upon request.